Acrylic (Polymethyl Methacrylate)
Acrylic is a transparent thermoplastic with outstanding strength, stiffness, and optical clarity. Acrylic sheet is easy to fabricate, bonds well with adhesive sand solvents, and is easy to thermoform. Acrylic is widely used for architectural glazing, indoor and outdoor signs, retail store fixtures, and point of purchase displays.
Plastiglass Cast Acrylic Sheet is optically transparent, unaffected by moisture, and offers a high strength to weight ratio, and high light transmittance. Plastiglass Cast Acrylic sheets can be easily heat-formed without loss of optical clarity. Prolonged exposure to moisture, or even total immersion in water, does not significantly effect the mechanical or optical properties of this outstanding material.
Key Characteristics
Optically clear
Strong and stiff
Easy to fabricate
Easy to solvent bond
UV resistant
Wide array of coatings
Cell cast grades available
Variety of profiles and shapes available
Many colors and textures available
Also available as rod and tube
Thick gauges available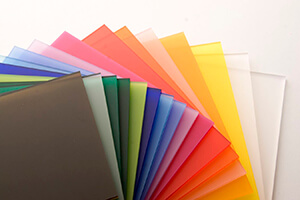 ---
Cast Acrylic Sheets
Physical Properties
ASTM Test
Units
Value
Specific Gravity
D-792
-
1017-1.20
Hardness
D-785
Rockwell
M80-100
Water Absorption (1'/8 thick specimen)
D-570
%
0.2-0.4
Compressive Strength: (Rapture)
D-695
PSI
11000-19000
Compressive Modulus
D-695
PSI
11000-19000
Tensile Strength At break
D-638
PSI
560
Tensile Modulus
D-638
1000 PSI
350-450
Flexural Strength: Rupture
D-695
PSI
12000-17000
Flexural Modulus 73 F
D-790
1000 PSI
390-475
Izode Impact Strength; (1"/8 thick specimen)
D-256 A
Ft-lb / In of notch
0.3-0.4
Elongation at break
D-638
%



Thermal

Co-eff or Linear thermal expansion
D-696
10-6 In/In C
50-90
Deflection Temperature under flexural load
D-648
264 PSI F
Thermal conductivity
C-177
1/1000cal-cm/sec-cm--2
4.6-6.0
Dielectric strength-do-short time
D-149
V/MIL
450-550
Thickness & Tolerance range of Plastiglass Sheets
| Thickness(mm) | Percentage(%) | Tolerance Range |
| --- | --- | --- |
| 2.0 | 15 | 0.3 |
| 2.5 | 12 | 0.3 |
| 3.0 | 12 | 0.4 |
| 4.0 | 10 | 0.4 |
| 4.5 | 10 | 0.5 |
| 5.0 | 10 | 0.5 |
| 6.0 | 10 | 0.6 |
| 8.0 | 10 | 0.8 |
| 10.0 | 10 | 1.0 |
| 12.0 | 8 | 1.0 |
| 13.0 | 8 | 1 |
| 15.0 | 8 | 1.2 |
| 16.0 | 8 | 1.3 |
| 18.0 | 7 | 1.3 |
| 20.0 | 7 | 1.4 |
| 25.0 | 6 | 1.5 |
| 30.0 | 6 | 1.8 |
| 35.0 | 6 | 2.1 |
| 40.0 | 6 | 2.4 |
| 45.0 | 7 | 3.1 |
Available Sizes
4' x 8' (1220 mm x 2440 mm)
4' x 6' (1220 mm x 1830 mm)
3' x 7' (915 mm x 2135 mm)
3' x 6' (915 mm x 1830 mm)
Available Colors
We have 60 colors availbe in:
Transparent
Translucent
Opaque
---